Subtle Beauty Botox
By Dr. Emily
Call To Book | 320-253-8244
620 Roosevelt Road St. Cloud, MN 56301
Quick and non-surgical approach
Reduces and prevents sings of aging
Affordable
Look the same, only younger
Lasts 3-4 months
Improves appearances of wrinkles with no downtime
FDA approved and safe
Customizable treatment options
Can help reduce headaches
$12/unit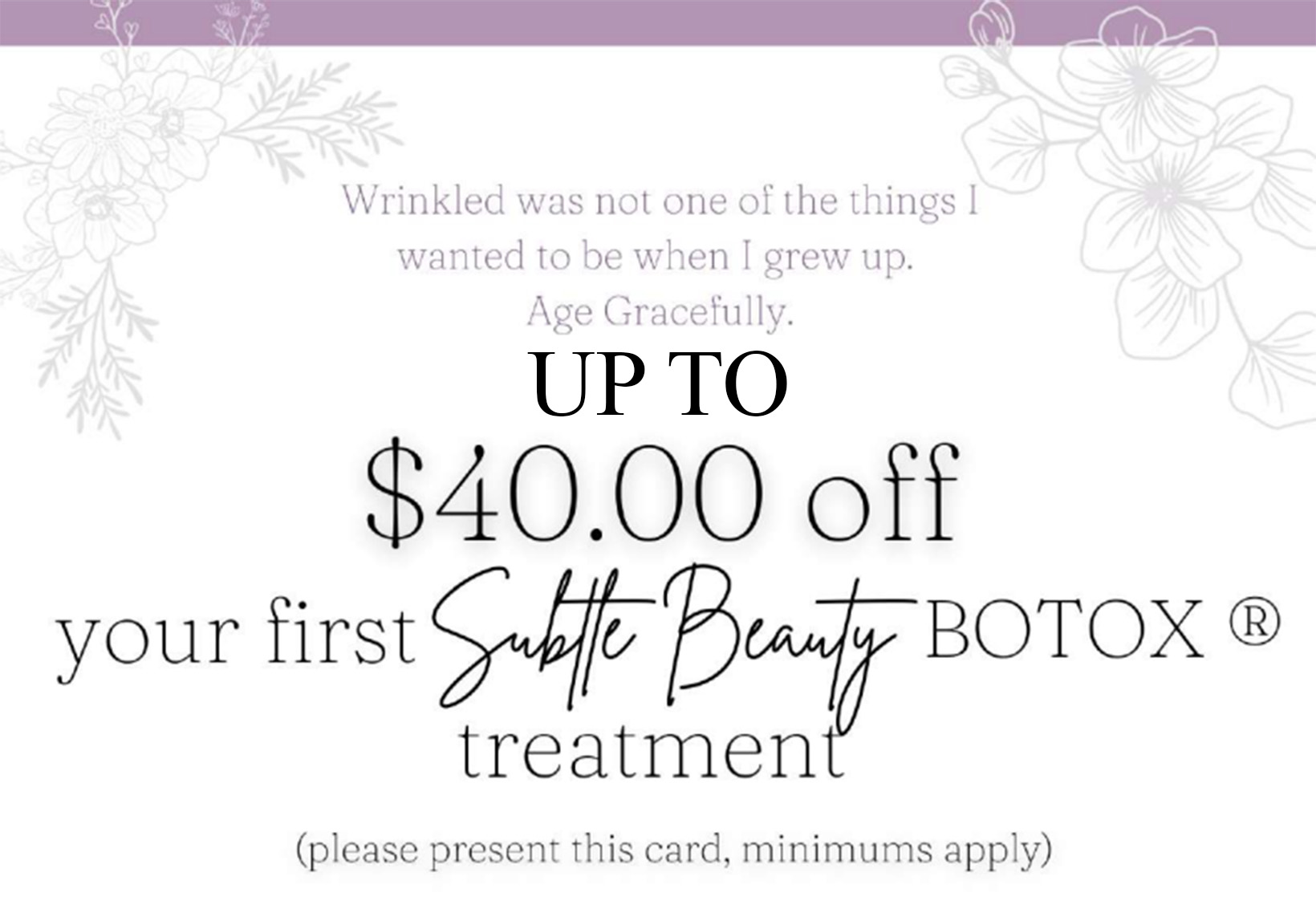 Who would benefit from BOTOX Cosmetic® injections?
Anyone who wants to prevent and reduce fine lines and wrinkles in the forehead, eyes, and mouth region. In our 20's and 30's is a great time to prevent permanent wrinkles from initially forming. In our 40's and beyond is when these lines settle into more permanency. BOTOX Cosmetic® smooths out these lines and precents new ones from forming. BOTOX Cosmetic® treats expression lines but cannot be used to repair sagging skin or loss of volume caused by aging.
How does BOTOX Cosmetic® work?
BOTOX Cosmetic® blocks certain nerve signals that cause muscles to contract. The muscles relax and the overlying skin cannot wrinkle. Over time, new nerve connections form, restoring muscle contraction and skin movement.
How often do I need BOTOX Cosmetic®?
Everyone metabolizes BOTOX Cosmetic® differently, which affects the duration of its efficacy. The average person will begin to regain movement of their muscles in about 3-4 months.
How much does BOTOX Cosmetic® cost?
The cost per unit can fluctuate, however Dr. Emily prioritizes keeping her costs at a very competitive level for her clients. She is a board-certified Doctor of Dental Surgery with extensive training in facial anatomy. All BOTOX Cosmetic® injections are performed by her. She individualizes the total dosage depending on each client's unique facial anatomy. Dosage and pricing will be discussed with you at your complimentary consult appointment. She also partners with rewards program Alle, runs periodic pricing specials, and offers a discount to new clients and existing clients who refer a friend!
Can I go to work or be in public following a BOTOX Cosmetic® treatment?
Yes! Patients may experience slight redness or bruising around the injection sites that fade quickly. Normal activities can be performed immediately.
What does BOTOX Cosmetic® feel like?
Injections are performed without anesthesia because most describe it as feeling like a quick pinch. The procedure is very quick and usually takes only a couple of minutes.
What can I expect at my first visit?
Your complimentary consult is a time for Dr. Emily to get to know you and your aesthetic goals. She will answer any questions and concerns and provide you with a realistic expectation of what BOTOX Cosmetic® can do for you and the cost of treatment. If you feel ready to take the next step, Dr. Emily can administer BOTOX Cosmetic® during your consultation appointment. Or, when the time is right for you, she is happy to schedule you for a future appointment.
Will BOTOX Cosmetic® change the way I look?
The is a common fear amongst new client. BOTOX Cosmetic® is not to be confused with fillers. It works by relaxing the wrinkles and limits excessive facial movement. It does not add volume or change the shape of facial features. BOTOX Cosmetic® subtly and elegantly enhances (but does not change) your natural beauty by softening harsh lines and wrinkles. For before and afters, visit Dr. Emily's Instagram page.
Instagram
Is BOTOX Cosmetic® right for me?
Men and women choose to invest in different professional services ad products to enhance their natural beauty. Professional hair services, makeup, skin products, nail care, and fashion and examples of common investments we make to help us feel beautiful and confident. BOTOX Cosmetic® is no different. If you value keeping your skin healthy and beautiful for years to come, there is no same in inquiring if BOTOX Cosmetic® is right for you. Dr. Emily will review your health history with you to make sure you are a good candidate to receive BOTOX Cosmetic®.
When will I first notice results?
The beauty of BOTOX Cosmetic® is its gradual onset and offset. It takes 3-5 days to begin to notice softer facial movement. The full effect is achieved between 7-14 days. At around three months, you will see gradual increase in facial movement again. Once you regain movement, you know it is time for another treatment.
How many treatments do I need?
The body naturally regenerates nerve connections and metabolizes BOTOX Cosmetic® over time. When you regain full movement, wrinkles may become less intense or require less units/frequency of BOTOX Cosmetic® in the future. Treatments can be discontinued at any time, and eventually your muscles will regain full movement and strength.